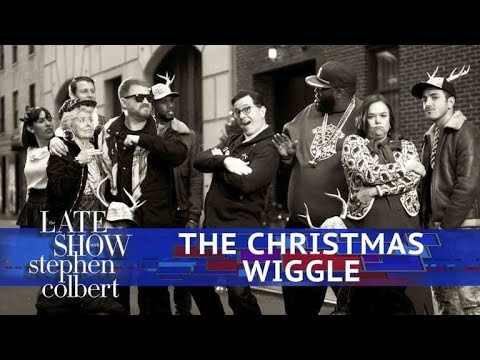 CBS/YouTube
Late night television host Stephen Colbert was in the holiday mood during Friday's episode of The Late Show. Towards the start of the segment, the comedian was quick to reference his original 2016 holiday song, the "Halloween Wiggle," which was "ruined" by his friends Run The Jewels. Colbert looked to redeem himself this time around with a new original tune titled "Jingle Jingle (Santa Party)," and even invited back RTJ's Killer Mike and El-P in hopes of bringing some wholesome integrity back to the show's musical writers, only to be disappointed once again.
As seen in the hilarious video above, the segment actually starts out with some pretty impressive choreographed singing and sweater work from Colbert and his backup dancers. Unfortunately, not even "gingerbread and tasty eggnog" can save Colbert and his family-friendly musical number from Run The Jewels, who join in on the fun starting around the 1:45 minute mark. Right out the gate Killer Mike and El-P turn the cheerful number into a lyrical storm of expletives and harsh truths that would be a bit more fitting on a hip-hop stage rather than network television. Regardless, the rappers seem to have a good time getting their own holiday messages across.
Run The Jewels spent much of this year on tour in promotion of their third studio album together with "Run the Jewels 3," which arrived almost a year ago back on Christmas Eve 2016. The two rappers/producers made plenty of festival appearances in addition to performing their own headlining shows in 2017, and even entered the teen pop conversation when it was announced that they'd be joining Lorde on a handful dates for her North American arena tour in 2018. Tickets for select shows on the upcoming spring tour are on sale now, and can be purchased by clicking here.