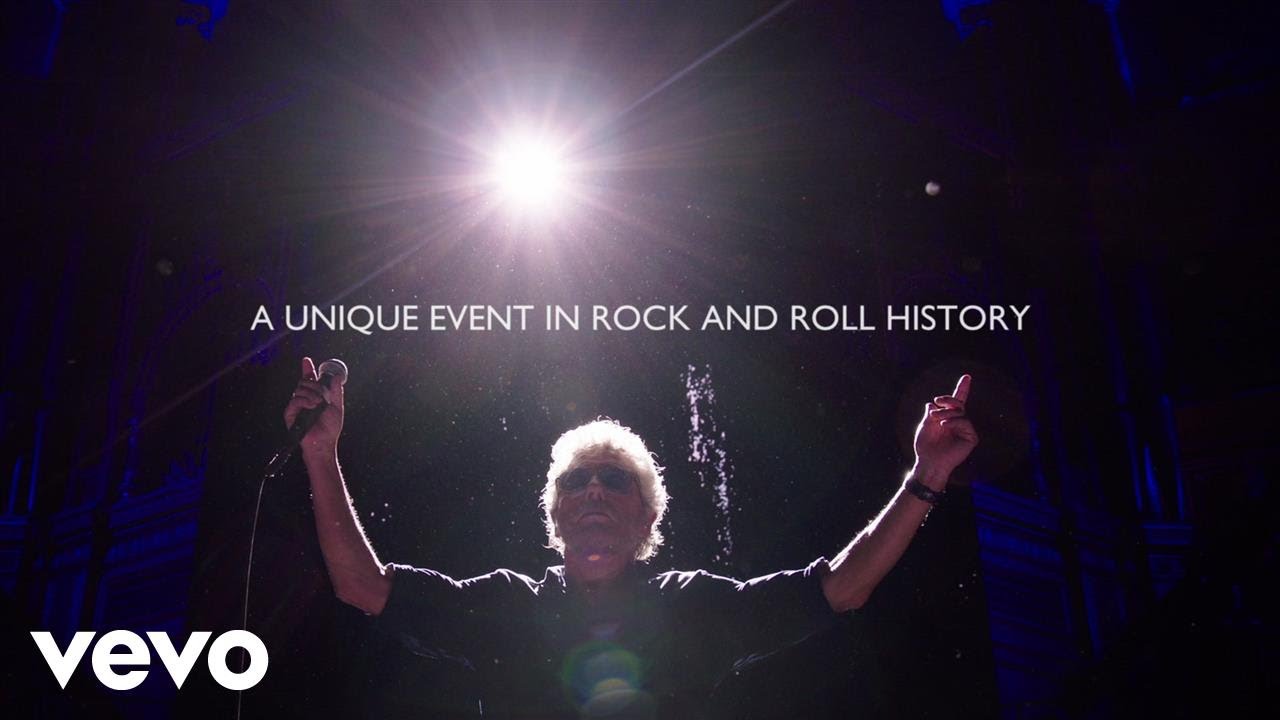 YouTube/The Who Vevo
Who fans that missed out on the legendary British rocker's rare live performance of their pioneering 1969 rock opera "Tommy" in its entirety on April 1 in London at Royal Albert Hall will have an opportunity to catch the action at home. The Rock and Roll Hall of Famers will release "Tommy - Live at Royal Albert Hall" in multiple formats on Oct. 13 via Eagle Rock.
The "My Generation" hitmakers posted an official video teaser for the upcoming live set on Aug. 17 via their official YouTube channel. The "Tommy" live performance was held in the prestigious London venue to a sold-out audience as part of the The Who's celebration of their 100th benefit performance for Teen Cancer Trust, which Who co-founders Roger Daltrey and Pete Townshend have supported since the very first benefit concert at Royal Albert Hall in 2000.
Although the multi-platinum sellers performed many selections from the beloved rock opera during The Who 2017: Tommy & More, the April 1 appearance was the only show during the entire tour that the band performed the album from start to finish. Along with beloved "Tommy" selections like "Pinball Wizard," "I'm Free" and "We're Not Gonna Take It," The Who also rocked through a short set of greatest hits at the end of the show, including classics like "I Can See for Miles," "Won't Get Fooled Again" and "Baba O'Rielly." Other bonus features include behind-the-scenes documentary, as well as  animations of the songs "The Acid Queen" and "Pinball Wizard" with the live performance audio.
"Tommy – Live At The Royal Albert Hall" is available for preorder here on DVD, Blu-ray, 2CD and 3LP. See below for the full track listing and view the preview video above.
The Who completed their hugely successful US tour on Aug. 16 in Lake Tahoe, Nev., which included their first-ever Las Vegas residency at The Colosseum at Caesars Palace, as well as a headline appearance in San Francisco at Outside Lands Festival. U.S. fans can catch Pete Townshend's Classic Quadrophenia during its upcoming  mini-tour, which starts on Sept. 2 in Lenox, Mass., at Tanglewood prior to The Who's first-ever tour of South America, which begins Sept. 21 in Sao Paulo, Brazil, at Allianz Parque. For all the latest details on The Who, click here.
The Who "Tommy – Live at Royal Albert Hall" track listing:
1) Introduction
2) Overture
3) It's A Boy
4) 1921
5) Amazing Journey
6) Sparks
7) Eyesight To The Blind (The Hawker)
8) Christmas
9) Cousin Kevin
10) The Acid Queen
11) Do You Think It's Alright?
12) Fiddle About
13) Pinball Wizard
14) There's A Doctor
15) Go To The Mirror!
16) Tommy Can You Hear Me?
17) Smash The Mirror
18) Underture
19) I'm Free
20) Miracle Cure
21) Sensation
22) Sally Simpson
23) Welcome
24) Tommy's Holiday Camp
25) We're Not Gonna Take It
26) I Can't Explain
27) Join Together
28) I Can See For Miles
29) Who Are You
30) Love, Reign O'er Me
31) Baba O'Reilly
32) Won't Get Fooled