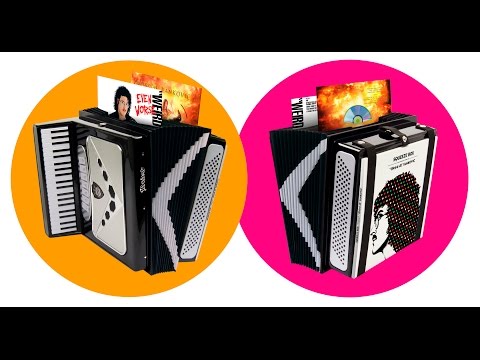 YouTube
"Weird Al" Yankovic, who isn't known for doing anything normally, will release a Squeeze Box of his entire catalog of recordings and then some housed in an accordion box which will be available this fall, it was announced Jan. 12. The 15-disc set, to be released on CD, 150-gram vinyl and in digital format, will include all of Yankovic's original 14 studio albums beginning with his 1983 self-titled debut up to 2014's Mandatory Fun, which was the first to debut at #1 on the Billboard comedy album chart in over 50 years. A 15th disc included in the set called Medium Rarities will include non-album tracks and other rare music put together by Yankovic himself. Six of the albums in the set will make their debut on vinyl. The Squeeze Box albums have all been newly remastered under Yankovic's supervision.
Squeeze Box comes in a replica of the accordion Yankovic has been known for and that has become a part of his act. Each album will be stored in its bellows. An accompanying 100-page book that's included will also feature rare and unseen photos and memorabilia. The set can be pre-ordered through Pledge Music. Those who pre-order the set will receive an AccessPass which offers access to exclusive artist updates and other bonus content.
Yankovic's Mandatory World Tour in 2015 included 200 dates with stops at The Governor's Ball Music Festival in New York, the Hollywood Bowl in Los Angeles and Radio City Music Hall. Yankovic is currently the voice of the title character on Milo Murphy's Law on Disney XD.
The contents of "'Weird Al' Yankovic: Squeeze Box: The Complete Works of 'Weird Al' Yankovic":
"Weird Al" Yankovic (1983)
"Weird Al" Yankovic In 3-D (1984)
Dare To Be Stupid (1985)
Polka Party! (1986)
Even Worse (1988)
UHF – Original Motion Picture Soundtrack and Other Stuff (1989)
Off The Deep End (1992)
Alapalooza (1993)
Bad Hair Day (1996)
Running with Scissors (1999)
Poodle Hat (2003)
Straight Outta Lynwood (2006)
Alpocalypse (2011)
Mandatory Fun (2014)
Medium Rarities