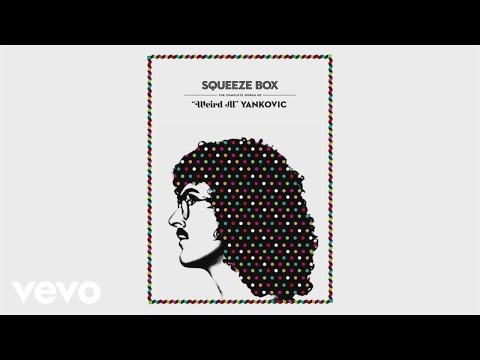 YouTube
On Feb. 17, "Weird Al" Yankovic posted a song on YouTube from his upcoming "Squeeze Box" anthology box set available through Pledge Music and to be released Nov. 24. The song, "Pac-Man," parodies the Beatles' song "Taxman. Several news stories called it unreleased but that's not true. It first appeared on "Dr. Demento's Basement Tapes, Vol. 4." The song features a count-in like the original and includes sounds from the game and some psychedelic guitar. "I used to be a pinball freak, that's where you'd find me every week, but now it's Pac-man."
Although most of the "Weird Al" parodies are generally of current artists, he has also poked fun at the Beatles, both using songs by the group and solo Beatles songs, through his long career. Perhaps his best known Beatles parody is "This Song (Is Just Six Words Long)," a hilarious take-off on George Harrison's "Got My Mind Set on You" that appeared on Yankovic's "Even Worse" album.  The chorus consists of repeating the title four times. In one of the verses, he sings, "Couldn't think of any lyrics, No, I never wrote the lyrics, So I'll just sing any old lyrics, That come to mind, child." 
"Gee, I'm a Nerd" is a parody of the Beatles' "Free As a Bird." It was performed by Yankovic starting in 1996. Besides being a takeoff on the Beatles, it also pokes a little fun at Star Trek fans. "Gee, I'm a nerd, seen each 'Star Trek' 80 times, memorized each word," the song begins. Another parody, "Chicken Pot Pie," almost didn't get heard at all. In an interview on "The Insider," Yankovic told the story that Paul McCartney once turned down the idea for "Chicken Pot Pie," which is a parody of "Live and Let Die." "I wanted to do a parody of 'Live and Let Die' because Guns and Roses had a hit with it," he said. But McCartney, a vegan, turned it down because he felt the song promoted eating meat. But Yankovic has treated fans to the song in concert. "If there's one thing we like better than corn beef and rye, it's chicken pot pie," he sings. During the frantic chorus, Yankovic is heard clucking like a chicken.
"Beatles Anthology Preview": Not a song, but a very funny commercial parody and also a poke at Beatles fans taken from his "Weird Al" TV show. In the short clip on YouTube, Al shows a CD that he says is "Beatles Anthology 17" and says one of the tracks is Paul McCartney brushing his teeth. He plays the audio and you hear someone brushing their teeth.
The Beatles have also figured lyrically in his songs. In "One of Those Days," he sings, "Left all my Beatles records out in the sun." The song "Polkas on 45" also includes a portion of "Hey Jude." So let's look at a few of the Beatles and solo songs he has poked fun at along the way.
Two interviews he did with George Harrison and Paul McCartney" for "Al TV," a feature on MTV in the '80s where "Weird Al" would take over the channel, were typically Yankovic, that is, weird. These were not what you could call serious chats. McCartney tries to run with the silliness of Al and begins the interview in Scottish, which brings a half-serious admonishment from Yankovic. "Paul, you're acting stupid." "I do that sometimes," McCartney says in reply. Yankovic says back, "You start acting silly and you don't get your cookie at the end of the show." It starts off similarly with Harrison. "George, I'm so excited you're here, I could just pinch your cheeks." Harrison borrows a line from the Rutles when Yankovic asks why he's such a big fan of Pee-Wee Herman. "I think it was the trousers," Harrison says.