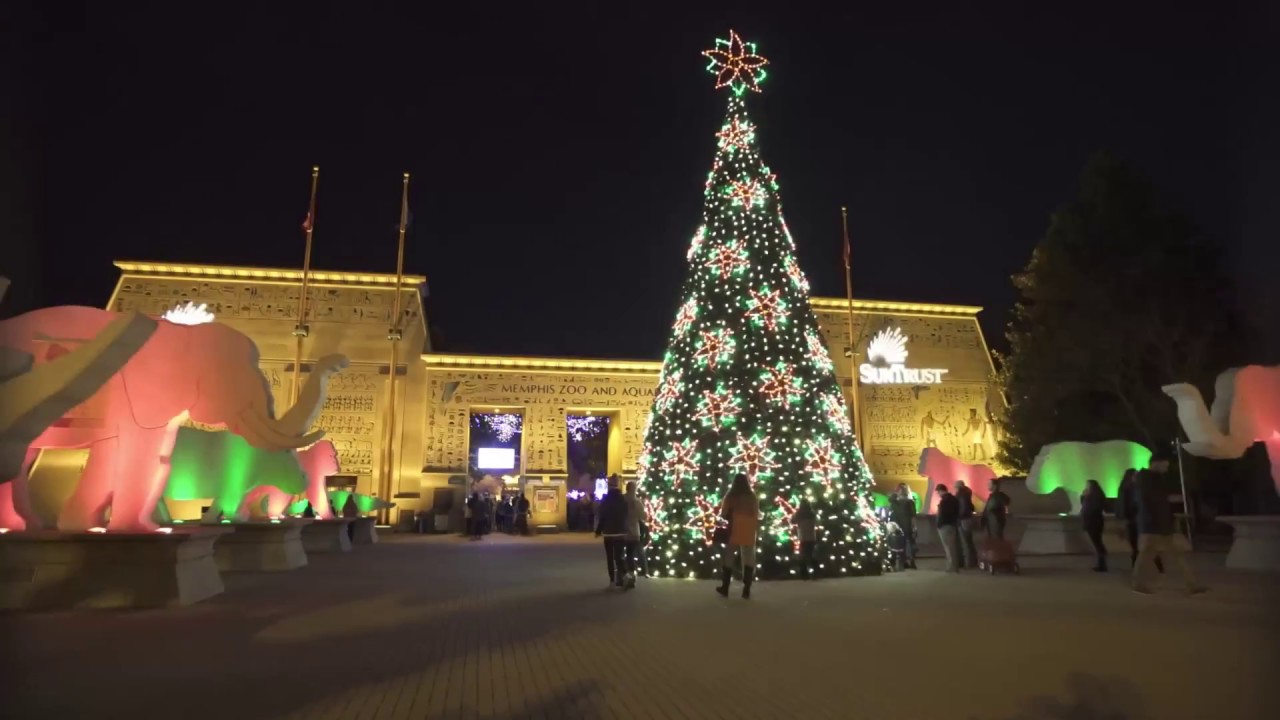 Memphis Zoo YouTube
The holidays will be festive and bright during the holidays, with Christmas lights and decorations, sure to delight kids and adults. Take the family for a drive to enjoy some of the light displays and decorations in Memphis in 2017.
Christmas at Graceland
Nov. 18-Jan. 8
Graceland, 3734 Elvis Presley Blvd., Memphis, TN 38116
The mansion made famous by Elvis Presley has been decorated inside and out for Christmas. The outside of the historic mansion is lined with lighted trees and a life-size nativity scene. Some of the inside decorations were used when The King still lived at Graceland. There will also be a Holiday Concert Weekend on Dec. 15-16, featuring three live concerts at the Graceland Sound Stage at the new entertainment complex. See the Graceland website for ticket information.
Suntrust Zoo Lights
Dec. 1-2, 8-9, 14-16, 17-23, & 26-30 @ 5:30 p.m.
Memphis Zoo, 2000 Prentiss Place, Memphis, TN 28112
The Memphis Zoo is a winter wonderland during the holiday season, complete with snow and brilliant lights. The 90-foot LED Ferris wheel is back, along with live reindeer, the free North Pole Express Train, and a 5,400 Square foot outdoor ice skating rink ($6 to skate). Tickets to Zoo Lights ($7-$9) are a separate ticket purchase from zoo admission tickets.
Holiday Wonders at the Garden                
Dec. 1-2, 1-9, 11, 14-23, & 26-30 @ 5:30 p.m.
Memphis Botanical Garden, 750 Cherry Rd., Memphis, TN 38117
The Memphis Botanical Garden is festively illuminated for the holiday season.  There will be special theme nights, including Community Night on Dec. 11, Family Thursday on Dec. 14, Date Night on Dec. 16, Sunday with the Sculptures on Dec. 17, and On My Last Nerve Night on Dec. 26. Admission is $5-$10.
Enchanted Forest Festival of Trees
Nov. 18-Dec. 31
Pink Palace Museum, 3050 Central Ave., Memphis, TN 38111
Kids and adults will delight in the holiday decorations in the Enchanted Forest, which will benefit Le Bonheur Children's Hospital. Take the family for a stroll through the forest of decorated trees, surrounded by twinkling lights, and enjoy the miniature train traveling through Gingerbread Villages. Admission is $5-$6.   
Away in 100 Mangers & Nativity Nights on the Square
Nov. 14-Jan. 6
Bible Museum on the Square, 140 E. Mulberry St., Collierville, TN 38017
The Bible Museum will display 100 Nativity scenes from a private collection. The Nativities come from countries around the world and depict the birth of Jesus as seen by different cultures. Nativity Nights on the Square will be on Thursdays, Fridays, and Saturdays through the end of December. These special evenings will feature kids activities, live music, refreshments, and more. Admission is $5/person or $15/family.
Starry Nights
Nov 24-Dec. 29 @ 6 p.m.
Shelby Farms Park, 6903 Great View Drive North, Memphis, TN 38134
Starry Nights, presented by International Paper, is the largest holiday light show and festival in the Mid-South. Take the family for a drive through the display to delight in the festive display of dazzling lights from the comfort of your car. There will also be cozy campfires and visits with Santa at Shelby Park. Admission is $20/carload.
New Year's Eve on Beale Street
Dec. 31 @ 8:45 p.m.
Beale Street, Memphis, TN 38103
The biggest party of the year will be a Beale Street, with a concert by B.B. King's Blues Band featuring Tito Jackson, Karma, and The Fabulous Exclusive Soul Review Band. The countdown to 2018 will feature the drop of the guitar, instead of a ball drop. The New Year will be greeted with a spectacular show of fireworks.